Our Most Popular Allergy Products
I design custom party supplies, home decor, and kids items at Sam Ann Designs and it has been SO fun. Working with the print on demand company Zazzle allows me to design a HUGE variety of items and let customers personalize their own details. This format fits so PERFECTLY for my Lil Allergy Advocates store for customers needing to add medical alert information, details about allergens, or even just their child's name on school supplies. Looking at our store with so many designs on hundreds of product types can be a bit overwhelming. I put together this list of our popular allergy products with some details about some of our most popular items. Contact me for custom designs if you need help or have an idea for a design that you don't see in the shop.
Make sure to follow Lil Allergy Advocates on TWITTER & PINTEREST to find out about new designs and coupon codes!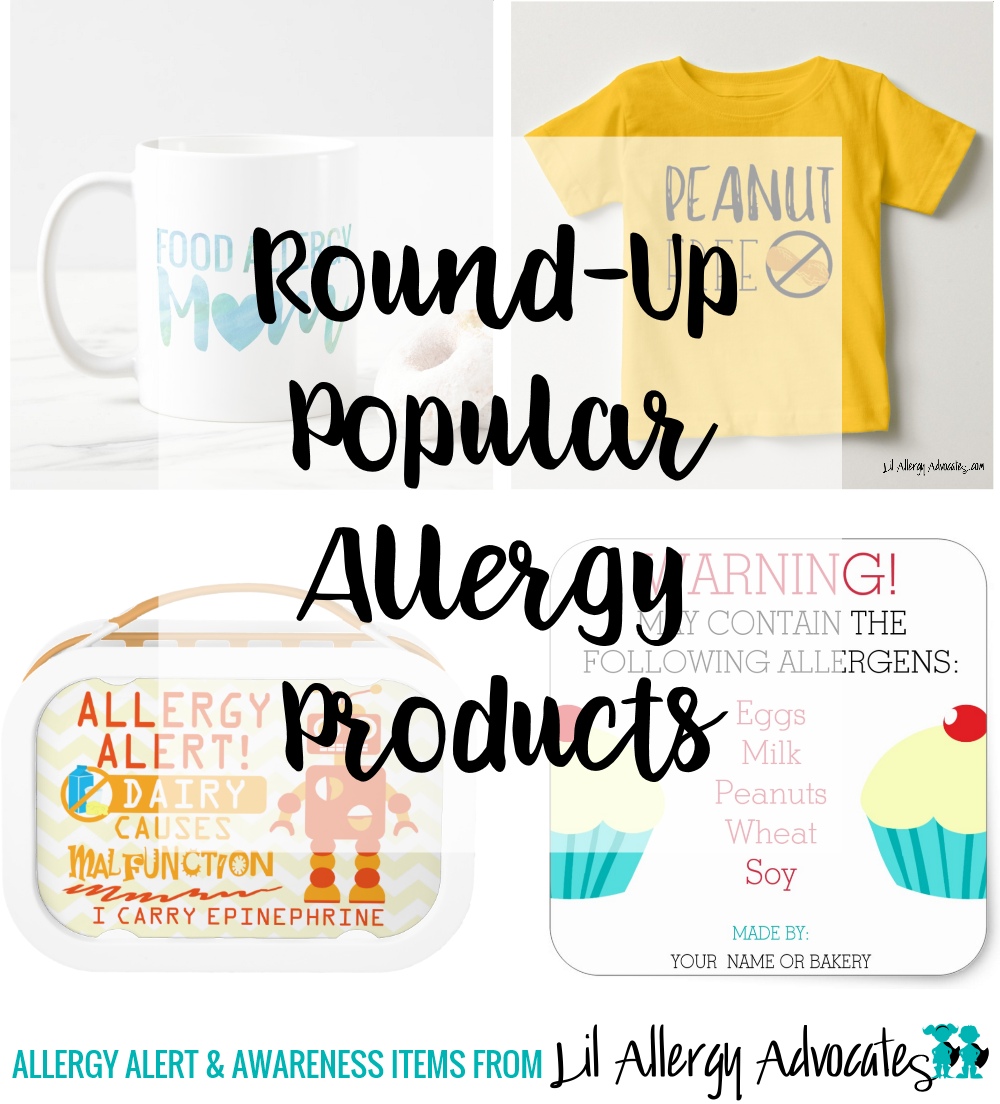 Allergy Awareness – Most Requested Designs
Food allergy mom items make great gifts. Our food allergy mom mugs and t-shirts were a design requested by a customer wanting a stylish way to spread some awareness. We have many items including key chains, stylish t-shirts & sweatshirts, buttons, stickers, and mugs.
Kids Stuff – Most Ordered Products
Lunchboxes! These are hugely popular with the daycare/preschool crowd that needs to bring in their snacks or lunch and gently remind caregivers their lunch is dairy free or gluten free. For those that are a bit older or do not wish to add personal allergy information to the outside of the box, we offer other personalized designs. No worries about lunchboxes getting mixed up and an unsafe lunch being eaten by your child. This is also a reason our personalized water bottles are popular – very difficult to grab the wrong one when a child's name is written large and clear!
Clothing! There are times, especially with very young children, that you need others to be aware of their allergies. Think of new caregivers at daycare, a preschool field trip, or during an allergy awareness event to show support. All our designs are available on a variety of short sleeve, long sleeve, sweatshirt, and hoodies. Sizes range from infant, toddler, and child to adult in a variety of colors. Our two most popular designs are a basic peanut free t-shirt and a funny "do not feed me" shirt with a donut design.
Most Requested – Acrylic Signs for Schools & Doctors Offices
More areas are becoming allergy aware and requiring signage as a helpful reminder. I have received requests from daycares, schools and doctors offices for very specific wording on posters, wall decals, and acrylic signs. Many schools are adding their school logo or photos for a customized touch. I offer cafeteria signs that denote a "peanut free table" or a classroom sign that is "food-free". The customer can edit all these signs for the different food free requests. While the nut free classroom signs have remained a top seller, there has been an increase in "food-free area" wall decals.
Most Requested – Allergy Friendly Bakery Labels
Allergen bakery labels are ideal for both home baked goods at a bake sale or allergy-friendly bakeries with specific allergen needs. Basic "nut free" stickers or more detailed ingredient options are also available. I was so excited when Zazzle added self-inking and rubber stamps to their long list of products! They have been fun to design for gluten-free, vegan and other bakeries. I also made a few basic allergy alert stamps with contact info – perfect for stamping on brown bag lunches or school papers – that quickly became popular.
More Allergy Friendly Resources