Advertise on Lil Allergy Advocates Website
Currently we offer side bar advertisement and sponsored blog posts on our website. If you have a food allergy friendly product that you would like reviewed on our site please  contact us for more details. 
Work With Us – Affiliate Program
Do you have an allergy friendly blog or website?  Do you want to promote Lil Allergy Advocates food allergy friendly products and earn money? Get paid a percentage of sales when you share Lil Allergy Advocates Zazzle products on your blog, website, and through social media!
Each time a visitor clicks on your referral link and makes a purchase through Zazzle, you can earn a 15% referral fee on that sale. It's free!
Here's how to get started
Create a Zazzle Account

Create an account

on Zazzle or login if you already have an account and go to your account section.

 

Start earning money!

Earn money each time someone clicks on a link with your referral ID and makes a purchase. It's that easy!
 Program Details
Minimum Referral Payment
15% per sale
Volume Bonus
Up to 17% per sale
Cookie Length
45 days
Minimum Payout
$50
Payment Methods
Check or PayPal
Refund Rate
Less than 1%
Promotional Tools
Associate Handbook
Link Building Guide
How to Promote
Place an html link in the sidebar as an advertisement for a specific product.
Share a product to Facebook
Pin a product to your Pinterest board
Use twitter to link to a product
Blog about an item, or just insert the product on a related blog post
Which Items to Refer
You can refer any item at any time. Need some ideas on how and what to promote?
How to link using your Associate ID
When linking to Zazzle pages add your Associate ID to the link to earn referrals on purchases made by anyone clicking your link.
For example, here is what a link to a Zazzle store would look like with your ID (replace your 18 digit ID in place of the x's).
http://www.zazzle.com/LilAllergyAdvocates?rf=xxxxxxxxxxxxxxxxxx
Be sure to add "?rf=" before your ID (unless the address already contains a "?", then add "&rf=" instead).
Use the social media sharing buttons to share a specific item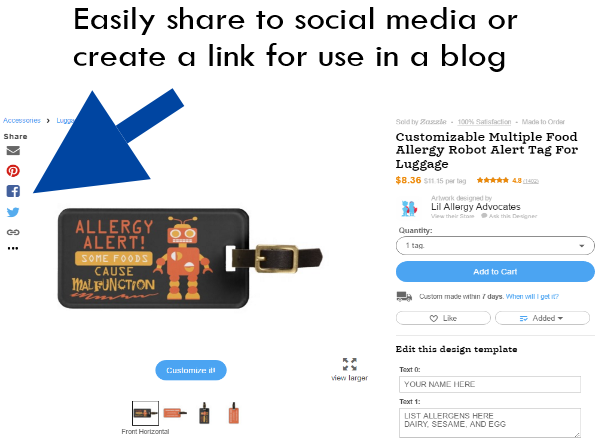 Additional Advertising Banners
If you would like a custom Lil Allergy Advocates Banner for your website to place in the sidebar to link to the main storefront please contact us and we can design one perfect for your site. Be sure when you set the link it includes your referral ID! If you need any further help with setting blog up as an affiliate please let us know. We would love to help promote your blog!
Please see Lil Allergy Advocates Terms of Service and Disclosure for more information.
Be sure to follow us on Facebook and Twitter for updates on new products and coupon codes!