Food Allergies on the Go
Most kids with food allergies carry snacks wherever they go. Whether you are off to school, daycare, a day at grandma's house or just a short road trip there are lots of options to store your safe treats. These snack containers can also act as allergy alerts to other caregivers and as a safe barrier between contaminated surfaces and your child's food. Best of all you can make sure each container is well labeled with your child's name to prevent a mix-up!
Carry it
Let your child carry around their snacks in style. Personalize their bag with their name or information about where their epinephrine is located. Choose from drawstring backpacks or various size tote bags. Drawstring backpacks are 19.25″ x 16.25″ and made of 100% nylon. Zippered totes are available in nine different sizes some with wristlet band or clip-on in a few different materials. Totes are available in five cotton canvas styles and multiple color options.

Drink Up
It would be a very scary situation to mix up your dairy allergic child's water with someone else's cup of milk. Personalize a water bottle with your child's name that clearly states their allergens. The bottle is made of 18/8 stainless steel, BPA free, threaded lid, and list lightweight, durable, spill proof and crackproof. Choose from a variety of colors and either an 18 oz. (height: 8.67″ Weight: 8.7 oz.) or 24 oz. size. (height: 10.8″ Weight: 10 oz.).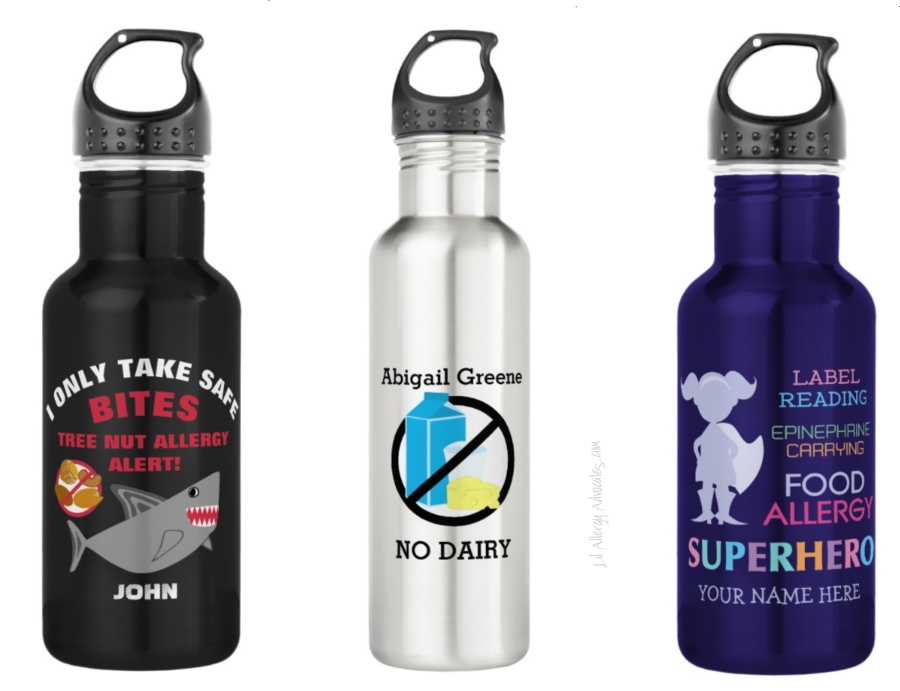 Store it 
Lunchboxes act as an excellent container not only for school but toting around safe snacks at any time. Lunchboxes can be personalized with a name, alert of specific food allergens or help locate epinephrine or other medicine. They are ideal for storing safe snacks, bringing to school or day care or toting around medicine.  Dimensions are 9.8″ x 6.9″ (3.5″ deep). Designs are printed on the front and back changeable face plates which are waterproof and tear-proof. Additional faceplates can be ordered separately if you want to change the look. Choose from six color options of the handle and sides and a variety of kid-friendly allergy alert designs. Each personalized allergy alert lunchbox are BPA-free, phthalate-free, and lead-free. They are 100% recyclable, 100% dishwasher safe (excluding faceplates). Includes large (sandwich) container, two small containers, and ice pack.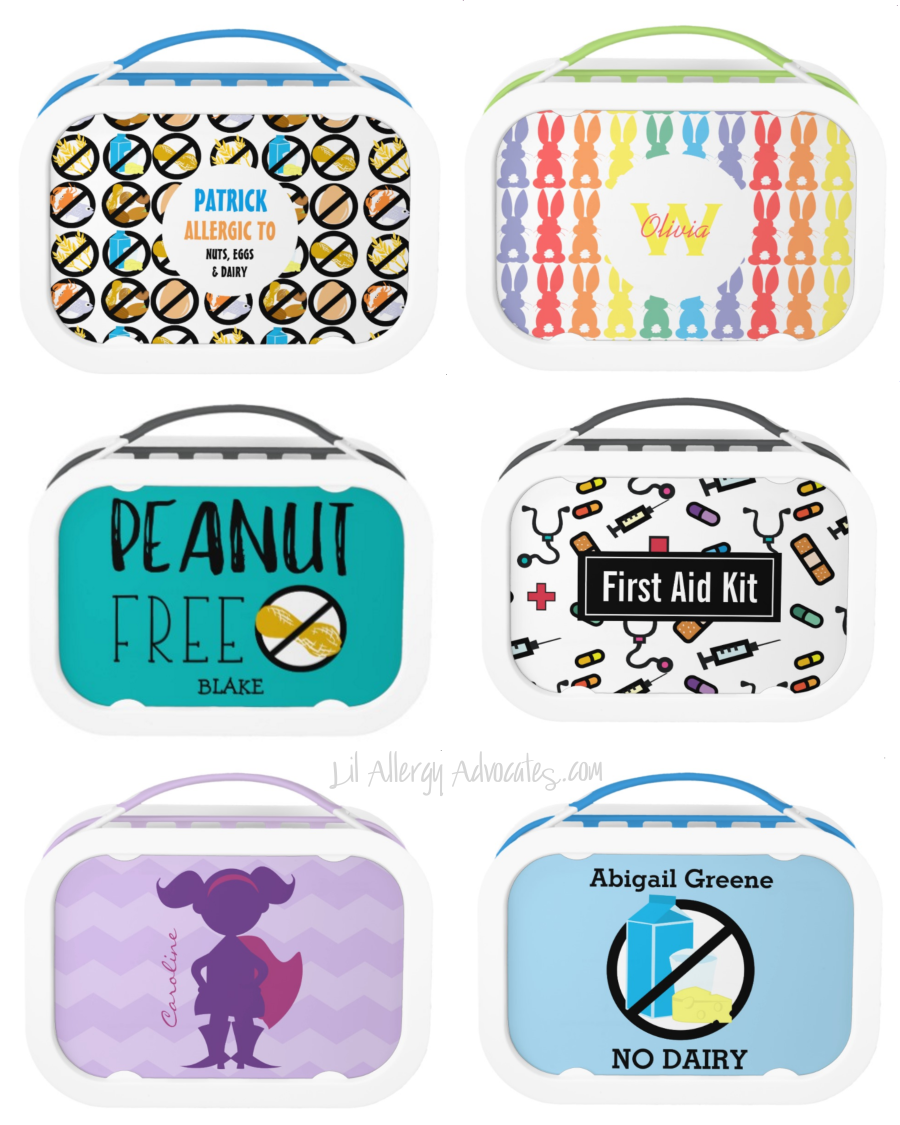 Other Allergy Alert Items
Food Allergy Resources