Allergy Friendly Easter Candy
Bunny, Easter egg, and chick themed chocolates and candy seem to be in every store leading up Easter. If you are dealing with a food allergy, it is not always as easy to grab the first pastel colored bunny shaped treat to fill your child's basket. We have found a few allergy-friendly companies that cater to some restricted diets. Check out the links below for some Easter themed allergy friendly treats to find some dairy free, egg free, peanut free, tree nut free, gluten free, soy free and dye free delights! Some of these items can be found in stores while others need to be ordered online. Always read labels and allergen warnings to figure out what is safe and what you should avoid. 
I am a food allergy mom, list maker, and graphic designer. Just so you know, my lists often contain affiliate links to help support the blog. Read my full disclosure if you have questions. Be sure to check out my food allergy awareness items and follow me on twitter for more lists, new products, and coupon codes!
UPDATED FEB 2018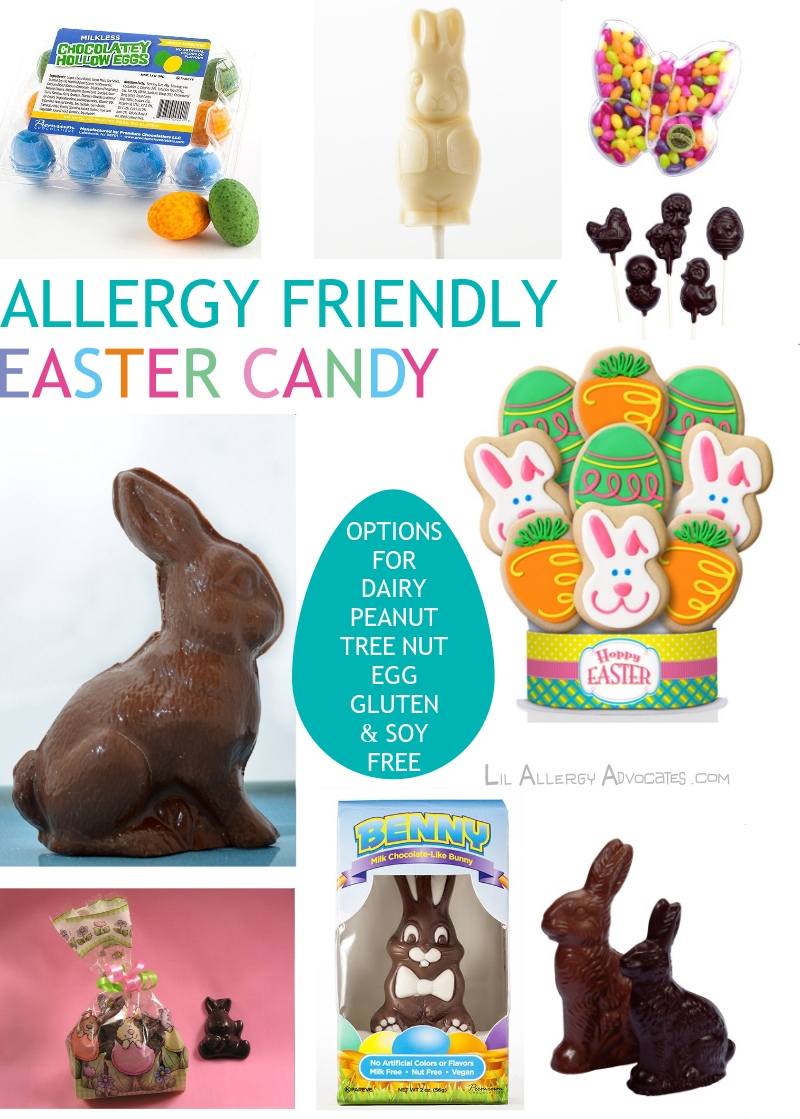 A & J Bakery – A dedicated nut and gluten-free facility. Some items are free of the top 8 allergens. Fun chocolate shaped bunnies and jelly beans are very festive!
Amanda's Own – Spring and Easter themed chocolates and candy free of dairy, tree nuts, peanuts, eggs, and gluten. 
Corso's Cookies – Easter and spring-themed cookie bouquets are nut free, but they do use eggs, milk, soy, and wheat. 
Divvies makes vegan (dairy and egg free) and nut free chocolate bunnies, cookies and popcorn and cupcakes.
Gimbals Fine Candy has jelly beans jelly beans in a variety of flavors and shapes that are free from dairy, eggs, peanuts, tree nuts, shellfish, fish, gluten, and soy.
No Whey Foods – Vegan chocolates free of dairy, eggs, gluten peanuts and tree nuts. Lots of fun bunny and spring goodies.
Vermont Nut Free Chocolates – Peanut and tree nut free chocolates, some are egg free as well. Jellybeans and chocolates for spring.


Shop Allergy Alert Items
Worried about well-meaning others at Easter parties giving your kids unsafe food? Check out our collection of allergy alert items ranging from buttons, stickers, shirts and totes!