How to Customize
Tips and tricks to personalize
Lil Allergy Advocates store is through an online marketplace called Zazzle. Because Zazzle is a print on demand company they offer hundreds of varieties of styles and colors of items. All those choices can be a be confusing so here we will break down how to find the perfect shirt for your little one. 
How to purchase customized allergy alert shirts
 Choose the shirt design from the store. 
Choose size from the drop down. 
You may change the color of the shirt if you would like.
Edit text template area to change the name or delete text to leave blank.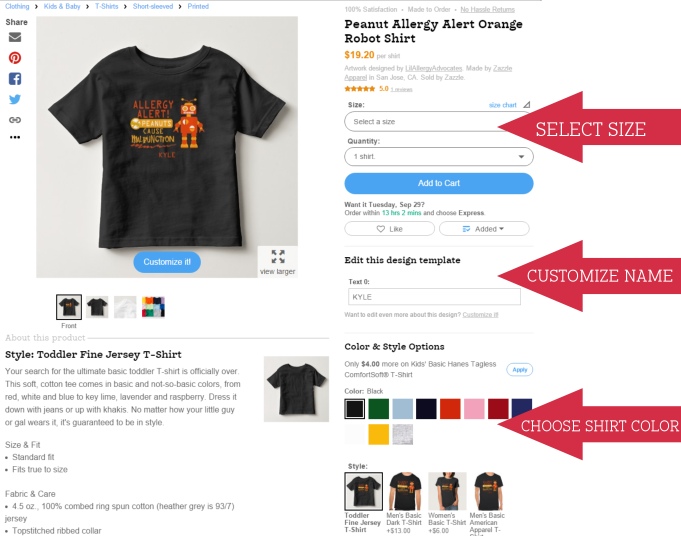 Follow us on Facebook for coupon codes!
Not the right size or style?
See a shirt with a design you love but it is on a short sleeve baby sized pink shirt which won't fit or appeal to your 8 year old boy? No problem. That design can be placed on any color background, for any size infant to adult. Zazzle offers long sleeve, short sleeve and sweatshirts. Each style has different color options and some of the designs look better on dark vs light fabrics so play around and check out what style you like best. 
Choose "see all styles" underneath the color options. 
A pop up window will let you select from all, mens, womens, kids or baby style tops

 Choose new size if you are switching from toddler to child or adult sizes the drop down menu will have different options.
Check out the color background options on the new style.
If you want to change the font color, style or size of the name click on the blue CUSTOMIZE IT button.

Clicking CUSTOMIZE IT will bring up the art view of the design.
Click on font color and style options.
If you wish to remove the name click X next to the font box.

Choose quantity of shirts and you are ready to buy!
More than just shirts
We have a wide variety of items in our store and all items can be customized! Use these tips to personalize any of our allergy alert and awareness items! If you have any questions or want to request a new item for the store please contact us! 
Ready to shop!
Back to Top