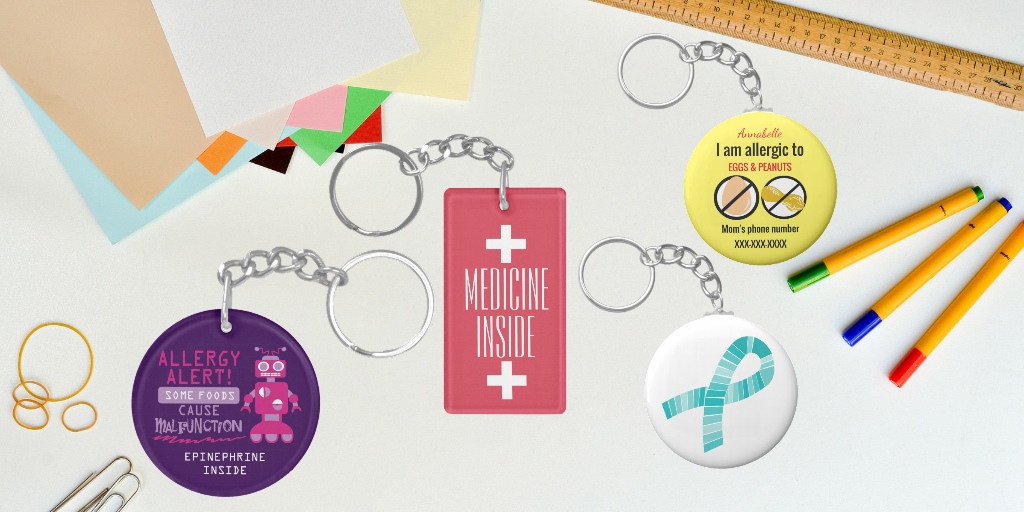 Allergy Keychains
Shop our online store through Zazzle to order your personalized key chains.  All key chains may be personalized with name or text area can be left blank if you do not wish to include your child's name. You may also add information about specific allergens, carrying epinephrine or other medical information. Bold, bright, and large for caregivers to see when attached to your child's book bag, medicine kit, or lunch box. Choose from a variety of designs displaying images of epinephrine, bold warning symbols, and kid-friendly graphics. 
Button Allergy Alert Key Chains
The sturdy clasp keeps your keys together securely and holds up well through daily wear-and-tear. These round button key chains are 2.25″ in diameter.  
Back to Top
Acrylic Double-Sided Allergy Alert Key Chains
Designs are placed on either circle (2″ diameter), square (1.875″ x 1.875″) or rectangle (1.5″ x 2.75″ shaped ultra-durable acrylic.
Back To Top
Related Items