Egg Allergy Stickers, Shirts, & Other Alerts
Allergy Alert! Egg allergy alert signs and warning symbols are available on posters, shirts, stickers, and kitchen items.  All items can be personalized with a name or left blank with no name. Red bold warning labels help identify the allergen to be avoided.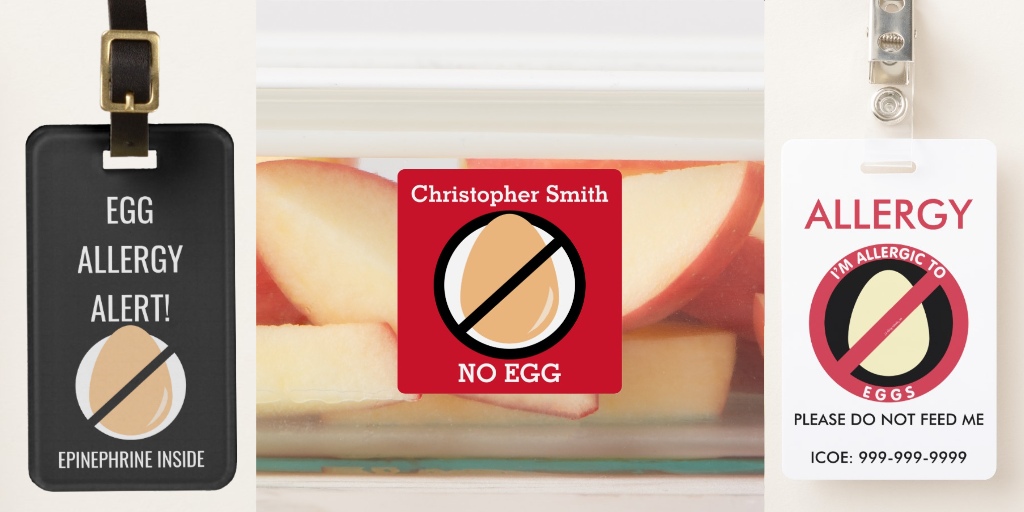 Shop our online store through Zazzle to order food allergy and awareness items.  We offer a variety of items useful for alerting to food allergies and raising food allergy awareness. Keychains, stickers, buttons, lunch boxes, water bottles, and stickers are all available in a variety of styles. There are more than 100 varieties of shirts to choose from ranging from infant, toddler, child, and adult size. Shirts can be ordered as long sleeves, short sleeves, sweatshirts, or hoodies and come in a variety of color choices. Our items help raise food allergy awareness as well as act as a reminder to caregivers of food allergies.
Shop Egg Allergy Alert Products
ALL designs are available in infant, toddler, kids, and adult sizes. Choose from a variety of long sleeve, short sleeve, tank tops, and baby onesies. Customize the text to add your child's name. Customize to change font colors to coordinate with shirt colors. Stickers are great to attach to medicine kits, lunch boxes, school paperwork, daycare supplies, or for young non-verbal kids to wear. Edit the text to personalize the text. They are available in small or large sizes, scratch-resistant front, easy peel-and-stick back in a matte or glossy finish. Keychains, luggage-style tags, and buttons are great for labeling medicine kits, book bags, or other items. Put egg-free snacks for daycare or school in a tote bag personalized with a name! Cute egg allergy lunchboxes can store snacks or medicine. Keep your child's drink safe from accidental sharing by personalizing a fun water bottle. Other egg allergy home and dining products include aprons and melamine plates.