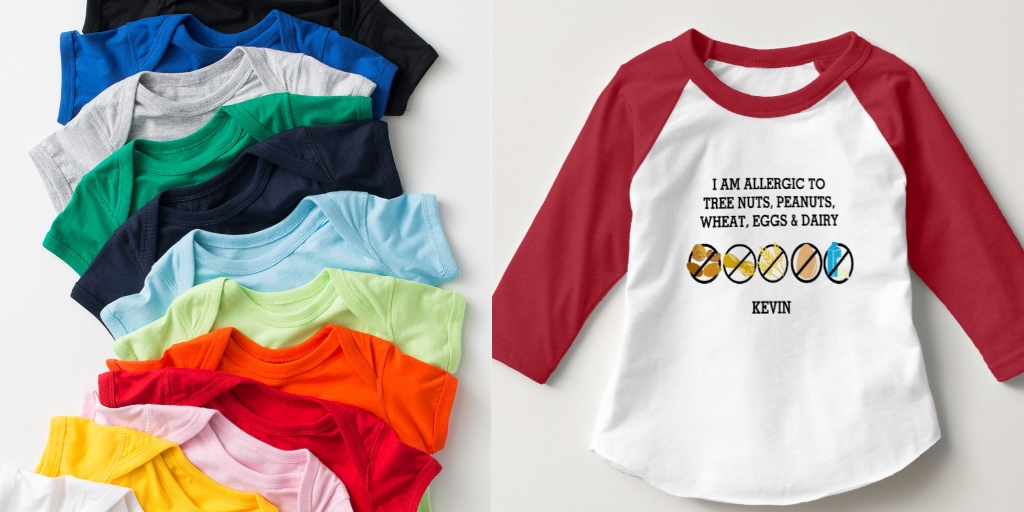 Kid's Food Allergy Shirts
Shop our online store through Zazzle to order your personalized allergy alert shirts. Because Zazzle is a print on demand company, they offer hundreds of varieties of styles and colors of items.  All shirts may be personalized with name or text area can be left blank if you do not wish to include your child's name on their shirt.  Help remind caregivers not to feed your child. Great for daycare, large family events, and school field trips. Fun designs kids will love. Choose to personalize with your child's name or remove name if you wish not to customize.
For tips check out our post on ordering and customizing our allergy alert apparel. We also offer food allergy awareness shirts. All of our designs are available on sizes infant, child, and adult. We offer short sleeve, long sleeve, sweatshirt and hoodies in a variety of colors. CONTACT US for custom design requests or questions!
Be sure to follow us on Facebook and Twitter for updates on new products and coupon codes! 
Personalized Allergy Alert Shirts Categories
Personalized Peanut & Nut Allergy Alert Shirts
Back To Top
Personalized General Food Allergies Alert Shirts
Back To Top
Personalized Dairy Allergy Alert Shirts
Back to Top
Personalized Egg Allergy Alert Shirts
Back to Top
Personalized Gluten Free Shirts
Showing 1 - 11 of 11 products.
Back to Top
Personalized Holiday Themed Allergy Alert Shirts
Easter, Halloween and Christmas themed food allergy alert shirts.
Back to Top
Food Allergy Awareness & Food Allergy Moms & Dads Shirts
Back to Top