Allergy Awareness
Personalized food allergy awareness shirts, tote bags, water bottles, stickers, buttons, and more. Teal ribbon designs are available on many different products. Great ideas for food allergy awareness week.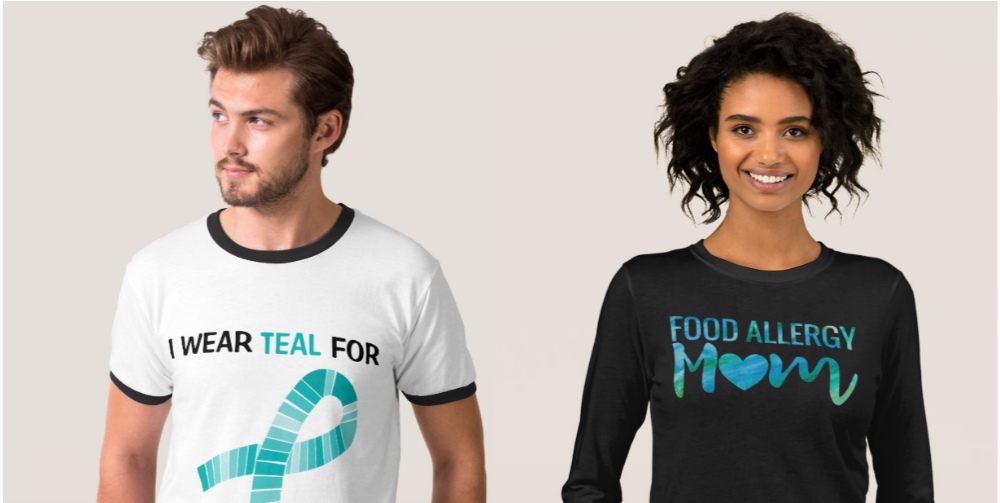 Shop our online store through Zazzle to order food allergy awareness and Celiac items.  Keychains, stickers, buttons, lunch boxes, water bottles, and stickers are all available in a variety of styles. There are more than 100 varieties of shirts to choose from ranging from infant, toddler, child, and adult size. Shirts can be ordered as long sleeves, short sleeves, sweatshirts, or hoodies and come in a variety of color choices. Our items help raise food allergy awareness as well as act as a reminder to caregivers of food allergies.
Shop For Food Allergy Awareness & Teal Ribbon Products
ALL designs are available in infant, toddler, kids, and adult sizes. Choose from a variety of long sleeves, short sleeves, tank tops, and baby onesies. Keychains, stickers, mugs, tumblers, and many more items are available. Teal ribbon awareness designs can be personalized with a name.