Valentine Classroom Party Game Ideas
Valentine's Day parties at school are a fun event to look forward to in the middle of winter. Check any Pinterest board and there are plenty of fun game ideas for kids from preschool age up with fun Valentine themes. Unfortunately, many of these games pose a potential problem for a child with food allergies.
Some common games are:
use a straw to pick up candy
use chopsticks to pick up marshmallows
eat a donut off a string
candy hearts for bingo chips
make fruit loop bracelets
decorating cookies
Even some games and crafts that were food-free included potential issues for a child with food allergies:
games with playdough (contact wheat allergies)
crafting with old egg cartons or food jars (many potential food allergens)
games with balloons (latex allergies)
In some cases a parent planning a classroom party can find out any allergies in the classroom – there are likely to be at least one since 1 in 13 kids has a food allergy – and choose safe ingredients for a game. Or the safer route is to find a food-free game with non-food prizes. These games tend to be less messy and allow all kids to be safely included. 
Food-Free Emoji Valentine Game
The inspiration for the classroom party we were planning was the cute heart-eyed emoji. I had seen some punch board games on Pinterest and decided to try to make an emoji-themed game for the class. We wanted to make a food-free, allergy-friendly game for all the kids to safely enjoy.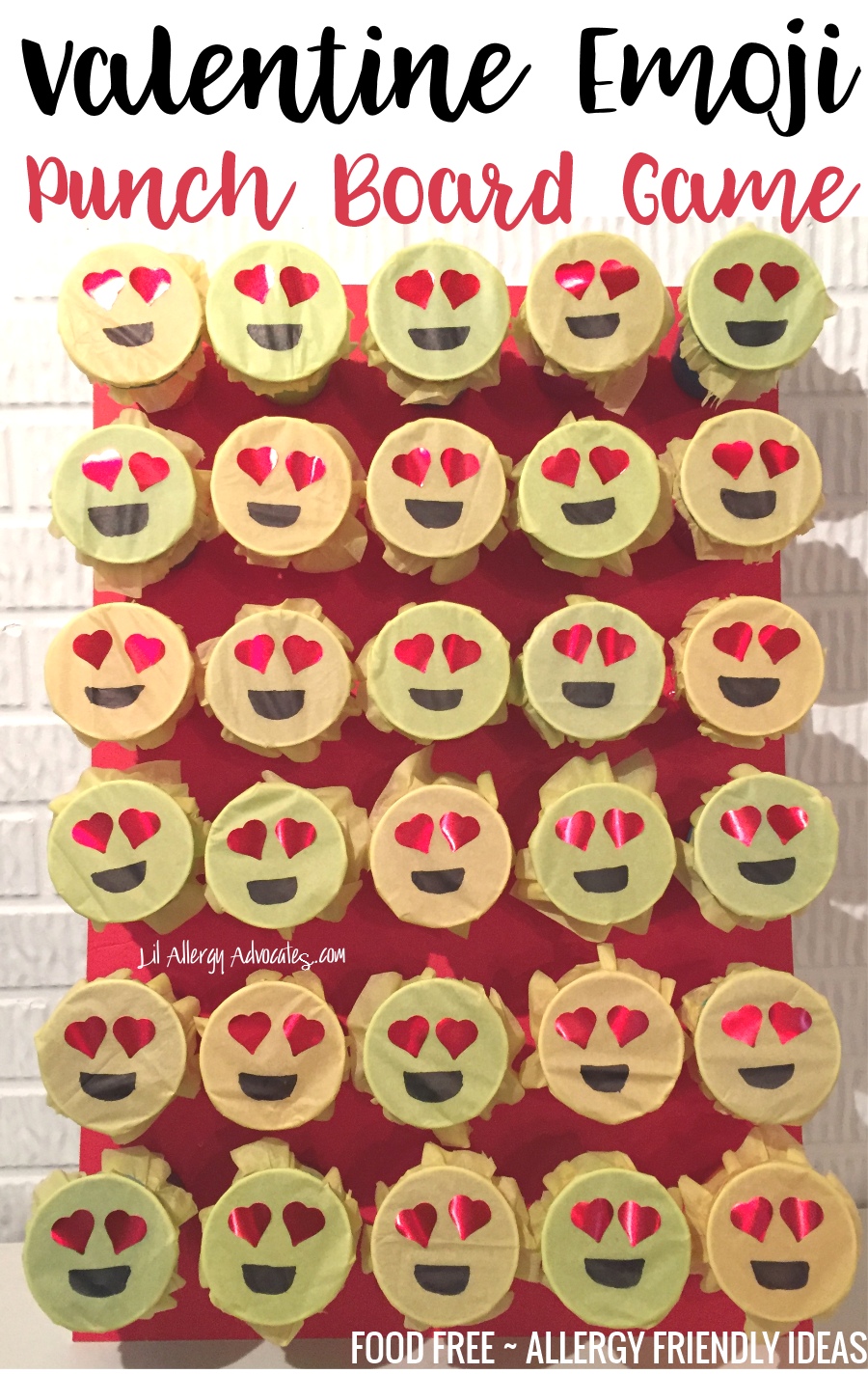 Emoji Valentine Game Supplies:
Plastic Cups – Big enough for a little hand to reach in and grab a small toy. I used 16oz cups in a variety of colors. Yellow would fit the emoji theme.
Tissue Paper – I used bright yellow tissue paper to get the look of emoji faces. 
Heart stickers – To make the heart eye emoji faces. Solid red or sparkly colored hearts would work.
Marker – Black permanent marker to draw mouths.
Foam Board – You can use cardboard, wood, or a thick foam-core board to attach the cups. Found in most craft stores or school supply sections.
Glue gun – My glue gun gets a lot of use. Make sure you have enough glue sticks to attach all the cups to the board. I used about 3 glue sticks for 30 cups.
Rubber bands – To attach the tissue paper to the cup (or you can glue the tissue paper onto the edges).
Fun Prizes – Small non-food toys, see list below.
Picking Food-Free Prizes
For our emoji-themed Valentine party, we decided to use some emoji-themed fuzzy keychains in each cup. We also added another random small toy finger lights or playing cards. Here are some of the items we used: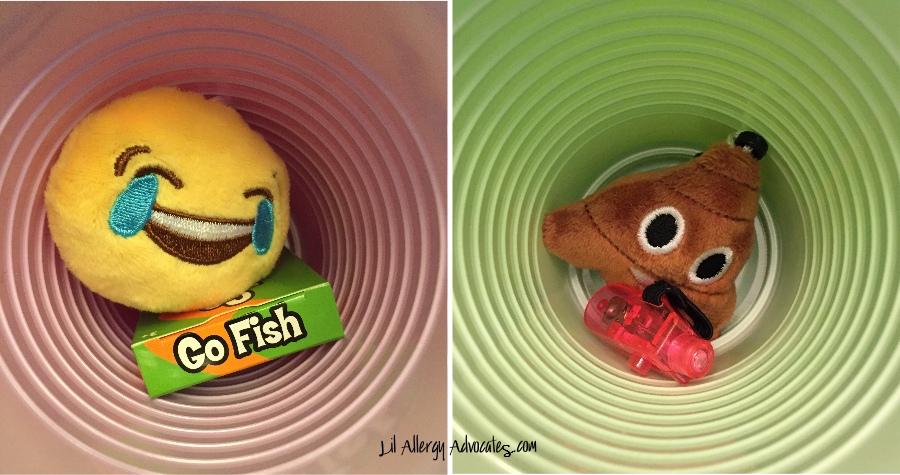 Instructions for Punchboard
Fill cups with fun food-free prizes.
Place a small square of tissue paper, at least two pieces for thickness, on top of each cup. Check to make sure a child can punch through easily, and the tissue paper is not too thick.
Secure tissue paper with a rubber band, so the tissue paper is stretched tight on top of the cup opening. Another option is to hot glue the tissue paper onto the cups. By using rubber bands the board is reusable for another time.
Draw designs on tissue paper or attach stickers. I used heart stickers for heart-eyed emojis and drew a mouth with a black permanent marker.
Apply hot glue to the bottom of the cup and firmly place it on the foam-core board. Hold in place for a minute then let it cool. 
Continue until all cups are attached.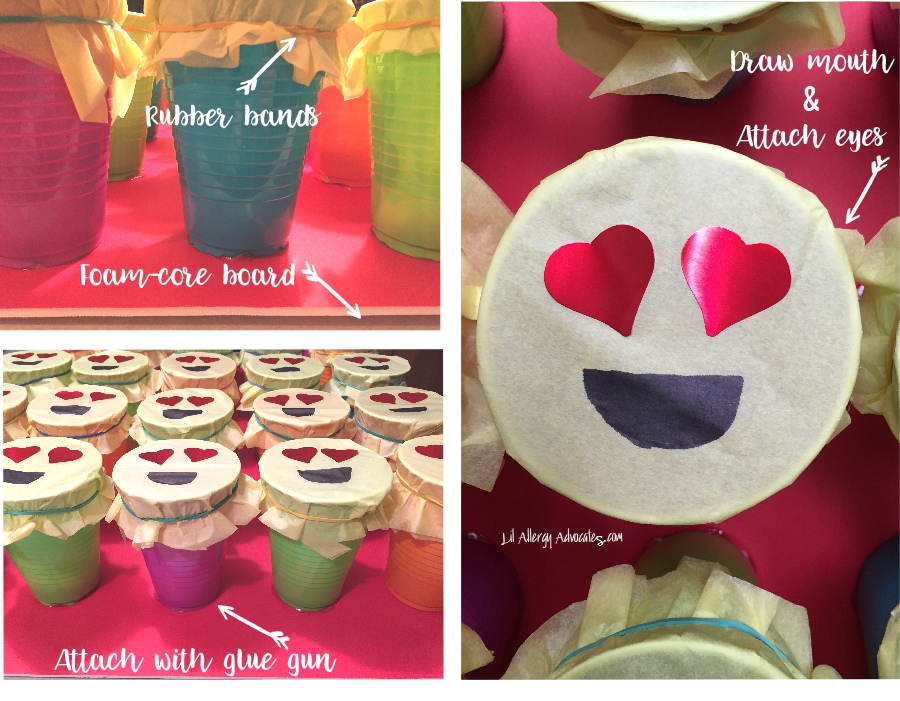 Tips & Other Ideas
Smaller kids can punch with their fists and grab a prize. Older kids make it a bit more of a challenge by having them aim using a sharpened pencil as an arrow. Each child gets three chances to hit a target. If they don't succeed they can pick any spot and punch through for their prize. For a non-school party, we reused this board and let the kids shoot the cups with a nerf gun.
Use different colored markers to draw on tears and eyes for a laughing emoji, sunglasses, or the sticking out tongue emoji expressions. Make sure to draw carefully with the marker so you do not pierce through the tissue paper.
For another theme organize the cups in a Christmas tree pattern, heart-shaped, pumpkin shape or other design for a festive occasion. 
Instead of emoji faces write numbers on each cup. Each number and have each child aim for a specific cup.
To get even spacing on the punch board, measure and mark even spaces for each cup. Remember that the cup will cover the spot so you can make a generous mark.
More Non-Candy Valentine Ideas
More Valentine's Fun
Shop Allergy Awareness Items