Less Candy, More Fun
Need some Ideas for candy free, healthy Valentines? Whether you are avoiding using food in Valentines due to food allergies, celiac or other dietary restrictions or you just want to be a bit healthier we found some clever ideas. Here are some cute and creative ideas. Many of the links have free printables and tutorials. Some really great ideas candy free valentines for school parties! *post may contain some affiliate links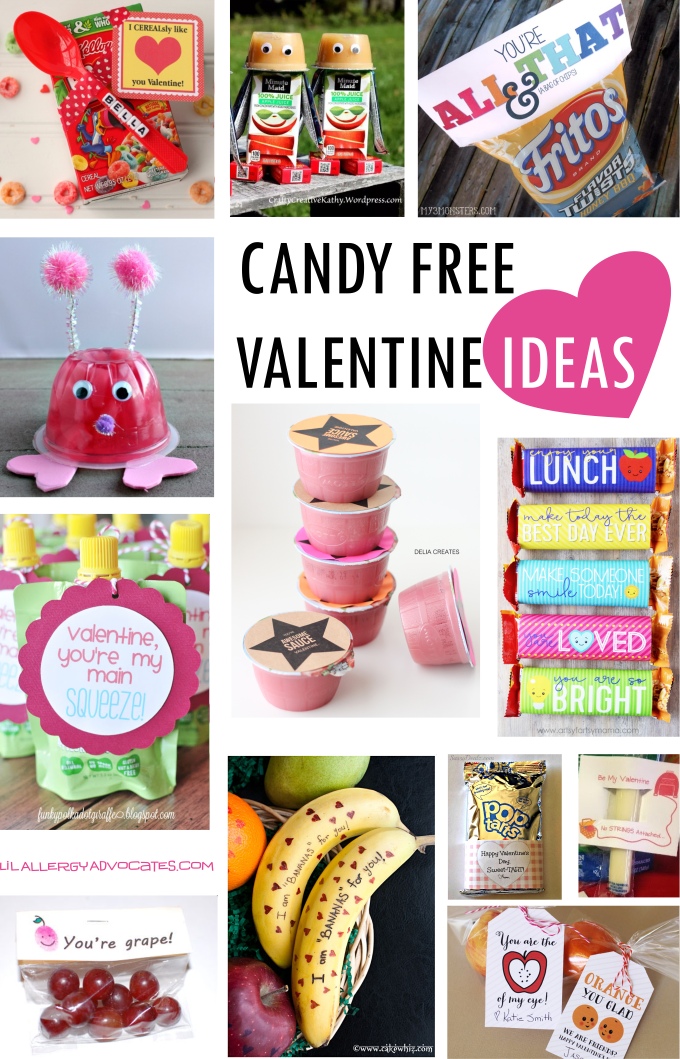 Healthy Ideas
How awesome are these applesauce cup Awesome Sauce printables from Delia Creates?
Juice box robots can be made from different supplies. Always read ingredients to make sure each item is safe if you are dealing with food allergies. Check out this tutorial by Crafty Creative Kathy.
Apples and oranges are a healthy choice. Free printable tags by Craftaholics Anonymous.
I CEREALsly love this idea by Giggles Galore! She makes the spoons so fancy but it would be easy to do with a safe cereal and a regular plastic spoon.
Another breakfast food idea with Pop Tarts. Free printable at Crafty Morning. 
Adorable little love bugs with your choice of fruit cups. Pink of course looks great for Valentines Day. Tutorial by The Melrose Family.
Squeeze applesauce is a quick and easy Valentine Party Treat. See the tutorial at Funky Polkadot Giraffe.
Banana messages from Cake Whiz. 
Let someone know you think they are 'grape' with these printables from Yankee Homestead.
Know someone who is "all that and a bag of chips"? Choose safe chips (Lays is top 8 allergen free!) and use this free printable from My 3 Monsters.
Printable wrappers can be attached to any allergy friendly granola bar of your choice. Get the printable at Artsy Fartsy Mama. Looking for a nut free or allergy friendly granola bar? Try Don't Go Nuts Bars or No Nuttin Bars, they are top 8 allergen free!
More Ideas for Candy or Food Free Valentines
Valentine Non-Candy Personalized Stickers
Turn apples, oranges, pears, bags of chips, glow sticks, and crayons turn into Valentine treats with these personalized stickers. Customize with your child's name and pass out a healthier or non-candy snack at their class party.
Showing 1 - 6 of 6 products.
"Safer" Candy options
Shop Allergy Awareness Items