Egg-Free Cookie Recipes
Eliminating eggs from a recipe, either due to food allergies or a vegan diet can be tricky. Check out our curated list of egg free cookie recipes below. Substitutions can be made to make these recipes safe for other allergies as well. For a dairy-free recipe try replacing with coconut milk, almond milk or margarine. Nut-butter can be replaced with sunflower butter or choose from a variety of crunchy textures to replace the texture of nuts in a recipe. *post may contain affiliate links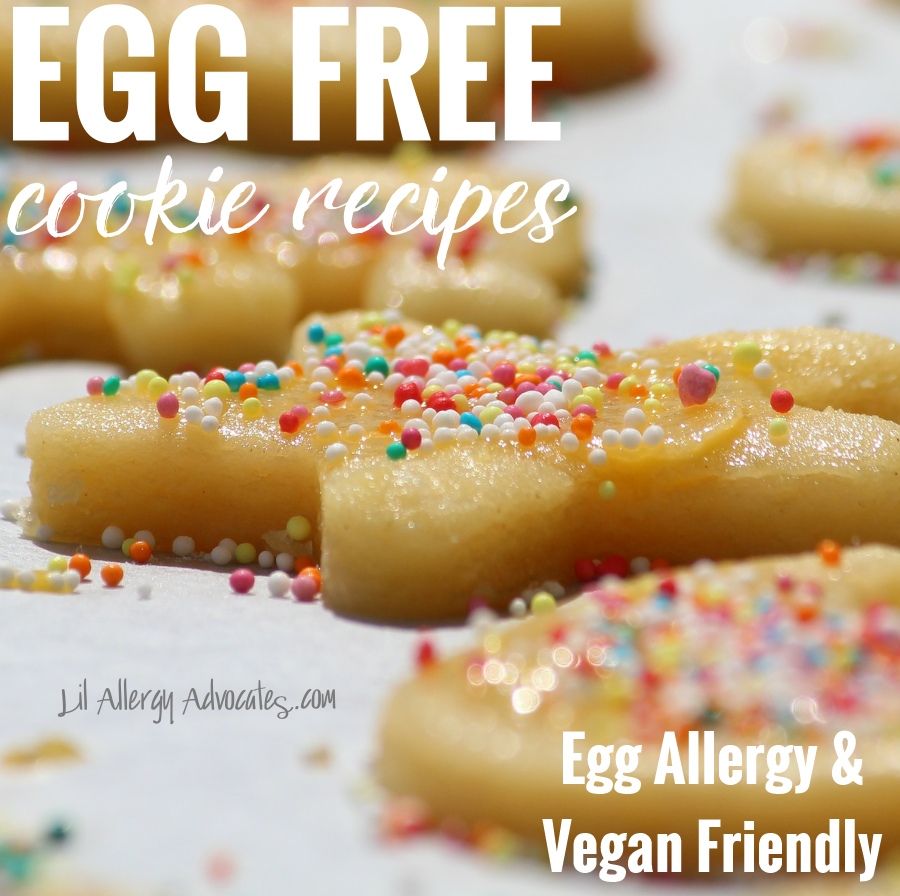 https://wholenewmom.com/recipes/egg-free-coconut-macaroons/
http://www.blissfulbasil.com/soft-and-tender-peanut-butter-cookies-vegan-and-gluten-free/
http://theprettybee.com/2016/12/gingerbread-sandwich-cookies-gluten-free-vegan.html
http://www.foodallergymama.com/2009/11/29/dairy-egg-and-nut-free-shortbread-cookies/
http://www.allergybitesblog.com/shortbread-cookies/
Egg Substitutions
Want to convert a recipe to an egg-free recipe? The trick to making a perfectly delicious egg-free treat is determining the best substitutes for eggs in that recipe. Leavening agents add a light fluffiness to a baked good. Those are best for cookies, cakes, cupcakes, pancakes, waffles, and meringues. Binding agents add a thicker denser quality to food. These substitutes are best for meatloaf, quick bread, quiches, corn bread, and casseroles. Try swapping out one egg with one of the following replacements: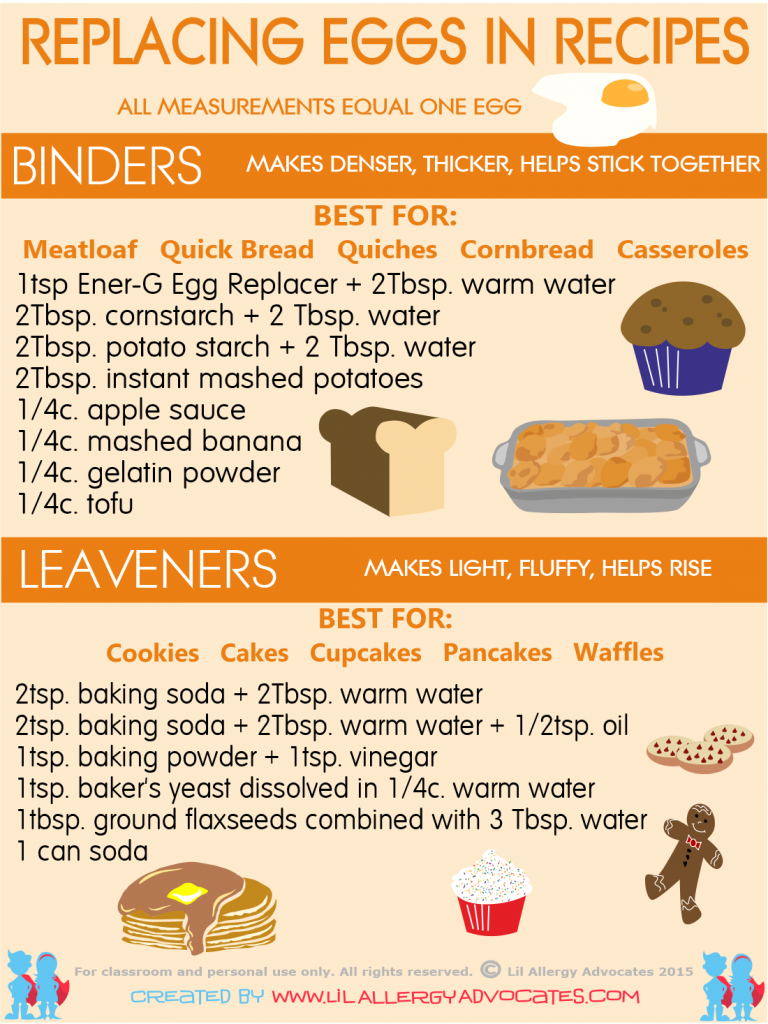 Shop For Egg Allergy Alert & Awareness Items
Allergy Alert! Egg allergy alert signs and warning symbols available on posters, shirts, stickers, and kitchen items.  All items can be personalized with a name or left blank with no name. Red bold warning labels help identify the allergen to be avoided. 
Shop our online store through Zazzle to order food allergy and awareness items.  We offer a variety of items useful for alerting to food allergies and raising food allergy awareness. Key chains, stickers, buttons, lunchboxes, water bottles, and stickers are all available in a variety of styles. There are more than 100 varieties of shirts to choose from ranging from infant, toddler, child and adult size. Shirts can be ordered as long sleeve, short sleeve, sweatshirt, or hoodies and come in a variety of color choices. Our items help raise food allergy awareness as well as act as a reminder to caregivers of food allergies.
Be sure to follow me on Twitter for updates on new products and coupon codes!