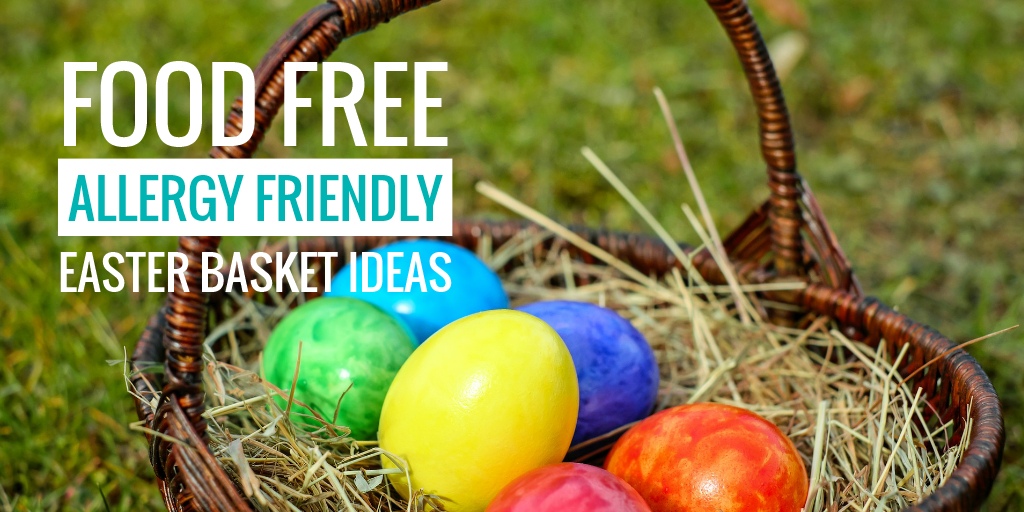 Traditionally, Easter baskets are filled with a big chocolate bunny and a lot of candy. Maybe a small toy or two makes their way into the basket. If you are looking to take some of the emphasis away from all that candy, consider some candy alternatives to fill the baskets. 
Have an idea for a food allergy friendly list or suggestions for additions to a current list? Contact me!
I am a food allergy mom, list maker, and graphic designer. Just so you know, my lists often contain affiliate links to help support the blog. Read my full disclosure if you have questions. Be sure to check out my food allergy awareness items and follow me on twitter and facebook for more lists, new products, and coupon codes!
UPDATED FEB 2018
Food Free Easter Basket Ideas
Fun Easter Grass alternatives
Easter grass is that crinkly, stringy plastic or craft paper material that comes in bright colors and fills the bottom of an Easter Basket. It is available in many colors and materials. There are some DIY tutorials online on how to make your own which is a bit more environmentally friendly too. It may not appeal to you to use since it's not exactly safe for little kids who may try to put it in their mouths. I was never a fan of those little strings can be found around the house for months after. We tend to use some more creative ideas for the bottom of the basket. 
Smaller Food Free "Egg Stuffers" Ideas
Check out this list below for tiny-sized items that will fit inside eggs other than candy. Amazon also sells pre-filled Easter Eggs with cute little toys already inside too! That eliminates the work of filling the eggs! Especially those of us who wait until the last minute to prepare for an Easter Egg Hunt. Any of these can also be placed in the Easter basket.
Related Easter Posts: