UPDATED NOV 2017
A Classic Tradition
Building a gingerbread house with your kids can be a fun winter tradition. The easiest thing to do is pick up a kit from the grocery store, break open the package and the house is put together in no time. For many families reading ingredients and avoiding certain foods due to food allergies, celiac disease or on other restricted diets finding an easy to make gingerbread house is a bit trickier. There are plenty of alternatives to the easy to grab grocery store brands. We found a few allergy friendly gingerbread house kits available and a bunch of ideas for using some very clever alternatives to the classic kits.  If you know of more kits or great ideas please contact us! 
*this post contains affiliate links
Allergy Friendly Gingerbread House Kits
Sensitive Sweets has a gluten-free, dairy-free, egg-free, soy-free, peanut-free, and tree nut-free and Vegan. Made with NO preservatives. Includes Gingerbread Cookie walls and roof, icing mix (just add water) for connecting walls, plastic holiday trees, and rings for decoration. Does not include frosting or candies. The deluxe kit includes everything in the regular kit PLUS a tub of Vanilla frosting to decorate and Organic dye-free candies. 
A & J Bakery Online Shop has gingerbread house kits that are vegan, and do not contain nuts, peanuts, tree-nuts, gluten, wheat, soy, dairy, or sesame at all. These "do-it-yourself" kits come pre-supplied with pre-baked gingerbread house pieces, 5 types of Allergen friendly candy, and a variety of non-edible decorations for your decorating pleasure.
Baking Your Own
If you are baking your own (allergen friendly version) here is a recipe and template that is egg free recipe with dairy-free options from Art of Dessert.
Get instructions on an egg free, gluten free recipe and tips on gluten-free decorating at Mother of a Hubbard.
If you are worried about cutting your shapes evenly check out some cookie cutter shapes or a mold to make a solid bundt cake version. Gluten-Free Baking has a gluten free gingerbread recipe with templates.
A "Non-Gingerbread" House
Besides using a traditional gingerbread cookie there are other creative materials to use for house building. Check out some fun alternatives to gingerbread houses.
Cake House by She Who Eats. Replace the cake with the allergy-friendly cake recipe of your choice to make sure it is the nut/dairy/wheat/egg free version that is safe for you and your family and follow her instructions. Make sure your decorations are using allergy-friendly candy!
Pretzel Cabins by Worth Pinning. Grab your traditional or gluten-free pretzels and some top 8 free candy and you can build an adorable little pretzel village. 
Graham Cracker House By Stephanie Lynn has instructions to make some tiny graham cracker houses. This idea may work with other large cracker types as well.
Sugar Cube Castle by Crystal Starr. This could be a medieval theme or an ice princess with decorations. Use either glue or white frosting to hold the cubes together.
Martha Stewart has instructions on how to make a Sugar Cube House. With allergy-friendly candy kids can get very creative.
Extra Decorations
Ice Cream Cone Christmas Trees by the Hungry Housewife. Allergy friendly frosting and safe candies will make these very festive.
Sparkling Christmas Trees by The Cake Blog. Focus on just white frosting and sprinkles for a snow-covered look.
Rice Crispy Treat Snowman by The Bear Foot Baker. Rice Crispy treats can be made with dairy free, soy free margarine. Or find a vegan recipe using sunflower seed butter instead of marshmallows.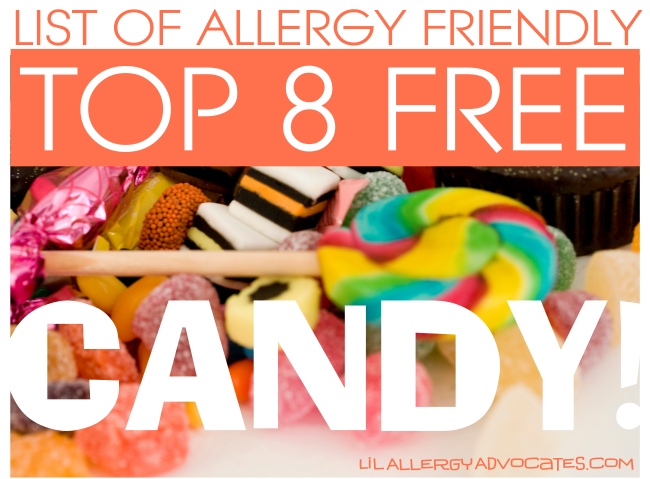 Check out this list of top 8 allergen safe candy for options to decorate. 
Helpful Baking Materials
Bunt Cake Pan – Great for Making an actual cake the shape of a house.
Castle Pan – It might be fun to make a gingerbread castle. With white frosting, it would seem like a frozen winter wonderland.
3D Mini Gingerbread Cookie Cutters – Make the TINIEST gingerbread house ever with these small cookie cutters.
Silicone Gingerbread Molds – The pans even have shapes for little trees and little gingerbread men.
Kid Size and Food Free
A tiny Lego Gingerbread House
 – This toy Lego house is a fun project for kids and totally food free.
Candy Cottage Gingerbread House – The safest gingerbread house we have found so far is this reusable plastic kit. Just add frosting and decorations! Each year you can snap it together, decorate and then wash it all off.
Frugal Fun 4 Boys – Adorable idea for a velcro cardboard gingerbread house.
Inner Child Fun – This is one way to make a completely food free gingerbread house! They made an adorable child size house and also mini cardboard houses. Check out their site to see the instructions.
Alpha Mom has instructions to make a small gingerbread cardboard house, perfect for little kids or dolls.
Follow us on Pinterest for more allergy-friendly ideas  
Visit Lil Allergy Advocates' profile on Pinterest.
More Food Allergy Friendly Christmas Posts