Allergy Alert Lunch Boxes
Our personalized allergy alert lunch boxes are a popular choice for parents and kids. They can be used for bringing safe lunch to school, storing allergy friendly snacks in the classroom, toting around medicine or for bringing snacks to a play date. We offer many different design styles on the Yubo lunch box through our Zazzle Store.  It features a detachable handle for vertical or horizontal carrying, six fun colors, and easy access front and back lids – all BPA-free and 100% dishwasher safe.  They include large (sandwich) container, two small containers, and an ice pack. Check out our tips below to customize your allergy alert lunch box.
Tips to Customize Allergy Alert Lunch Box
Choose A Design
Lil Allergy Advocates offers a huge variety of designs for lunch boxes. Some lunch boxes state clearly a specific allergen with allergy alert symbols while others are a general allergy alert. Shop around and choose a design. Remember face plates can be purchased separately and swapped out for a different look. Browse our designs.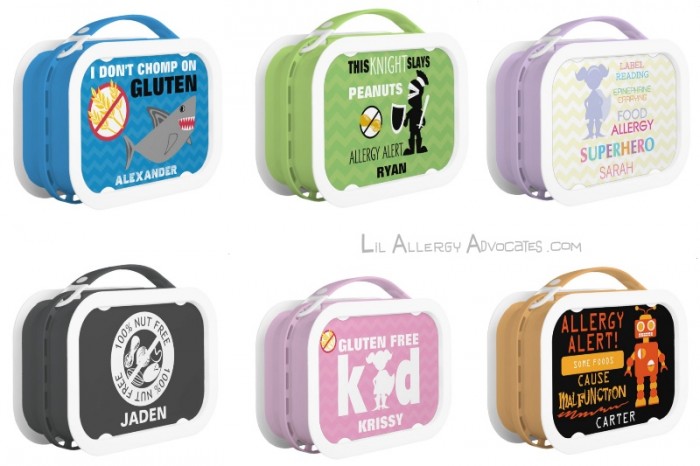 Basic Customization
Personalize your lunch box by editing the text in the template boxes on the right side of the screen. Some lunch boxes list allergens, some just a name. Make sure to check the front and back of the lunch box. There are six different color options for the lunchboxes edge trim; blue, lime green, light pink, orange, gray and light purple.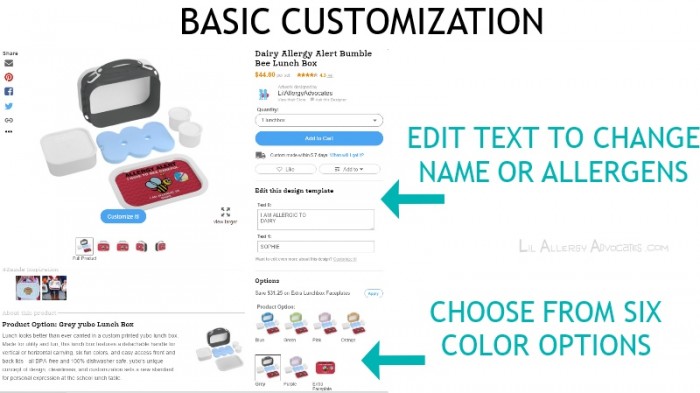 More Options
Some lunch box styles have options for further customization. If your lunch box has a solid color background you may choose another color. Click the customize button to see the color picker option.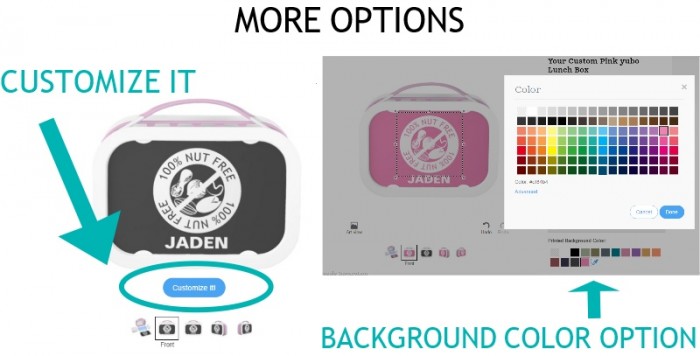 Extra Face Plates
Purchase extra face plates separately to swap out the designs on your lunch box. Designs are printed on the front and back changeable face plates (waterproof and tear-proof). Sold as a set of 2, one designed faceplate for the back and one for the front of the Yubo lunchbox, these face plates will give you the creative freedom to swap out designs on your lunch box! These durable face plates are waterproof for easy cleaning, and tear-proof to withstand the playground. So check out the options below to order yours! 
Shop for Lunchboxes
If you don't see the combination of allergies you need or are looking for another type of design contact me! Browse my allergy and non-allergy lunchbox designs!
Back to Top
Shop for Personalized Lunchboxes (no specific allergy info)
Back to Top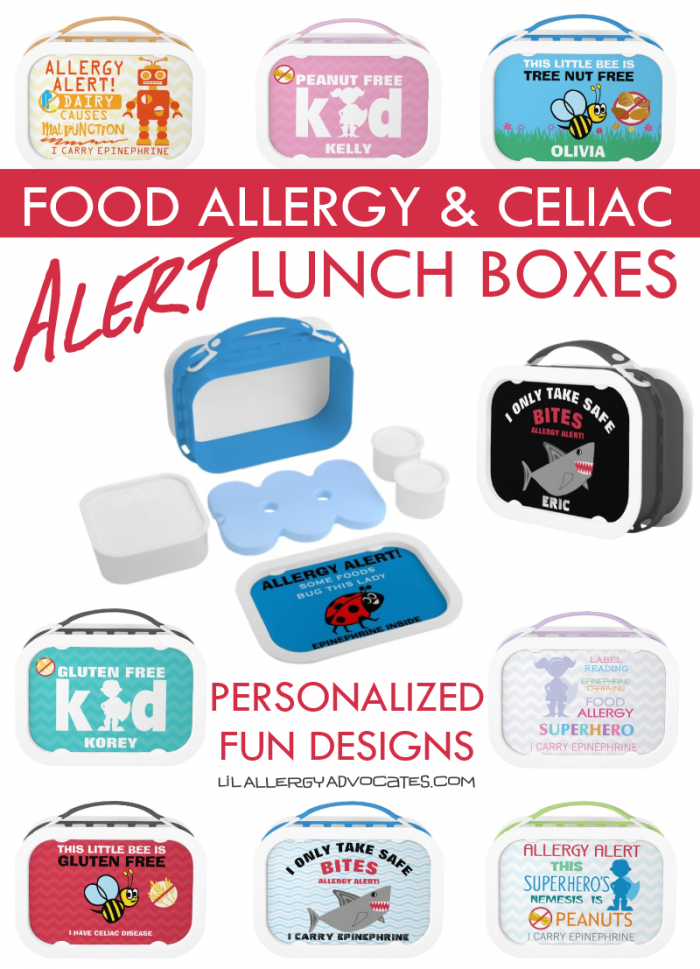 Be sure to follow us on Facebook and Twitter for updates on new products and coupon codes!