Allergy-Friendly Halloween Candy
As early as August, Halloween candy begins to sneak into the stores. If you are dealing with a food allergy it is not always easy to grab the first witch or vampire-themed treat to fill your child's treat bags. We have found a few allergy-friendly companies that cater to some restricted diets. Check out the links below for some Halloween-themed allergy-friendly treats to find some dairy-free, egg-free, peanut-free, tree nut-free, gluten-free, soy-free, and dye-free delights! Some of these items can be found in stores while others need to be ordered online. Always read labels and allergen warnings to figure out what is safe and what you should avoid. Contact us to let us know of any other allergy-friendly Halloween candy that we can add to this list!
PLEASE NOTE: This list was compiled as a starting point for some allergen-friendly Halloween candy. Information was obtained by the manufacturer's website allergen info, see links for each listed. Please, as always, double-check ingredients before eating! Lil Allergy Advocates can not guarantee any of the information below is still accurate. We have not personally tried each item on the list yet, but many are staples in our family. This post contains some affiliate links.
*UPDATED 2021
Chocolates, Cookies & Candy
Chips & Popcorn
Enjoy life Plentils –  These crunchy chips are made of potato and lentils free from wheat, dairy, peanuts, tree nuts, egg, soy, fish, and shellfish plus sulfites, crustaceans, sesame, and mustard.
Skinny Pop Popcorn – Their products are made in an allergen-free production facility and are completely nut, egg, and dairy-free. They even added a chocolate popcorn flavor!
Way Better Tortilla Chips – Many flavors of tortilla chips that are gluten-free, peanut and tree nut-free, and most are dairy-free.
Granola Bars
Enjoy life Bars and Trail Mix – Many different flavors of chewy bars plus trail mix free from wheat, dairy, peanuts, tree nuts, egg, soy, fish, and shellfish plus sulfites, crustaceans, sesame, and mustard.
Made Good Granola Bars – Granola Bars are made in a dedicated facility free from the 8 common allergens: peanut, tree nuts, wheat, dairy, egg, soy, sesame, fish, and shellfish. They are also organic, gluten-free.
No Nuttin Bars –  Granola bars manufactured in a dedicated facility free of ALL of the top 11 food allergens and gluten.
Check Our List of Non-Food Halloween Treats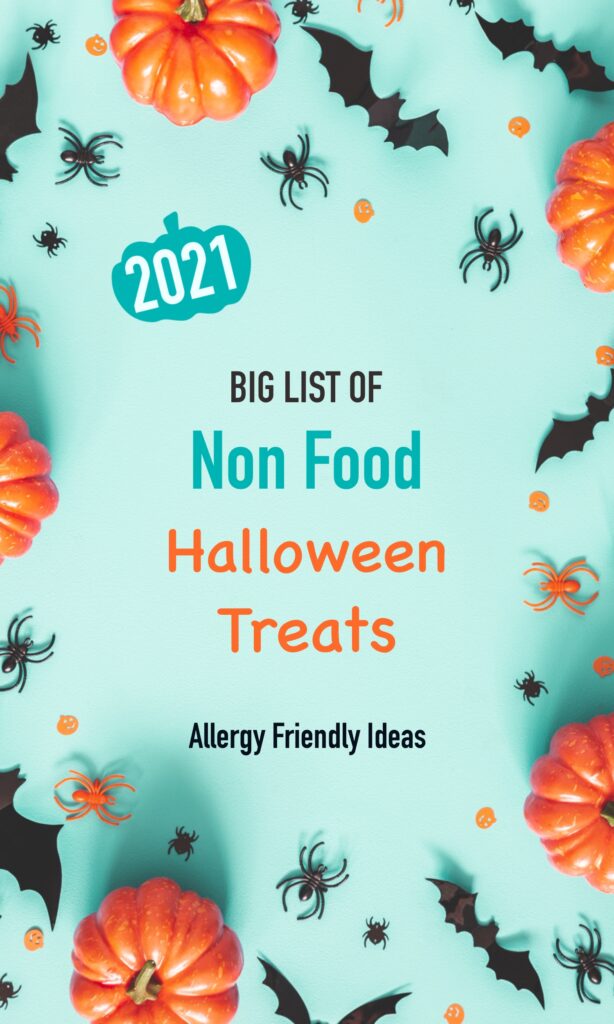 Shop For Food Allergy Alert Products