Top 8 Free Snacks
Finding tasty and somewhat healthy snacks when avoiding one or more allergens can be tricky. Some products seem safe until you read the teeny tiny print on a label that says 'may contain traces of' or 'processed in shared facility with' an allergen that you need to avoid. 
We found some easy to grab snacks to pack for lunches, send in to class for parties or just have handy in a pinch. Remember ALWAYS read labels and double check ingredients/allergen statements or call the manufacturer with questions.  Making this list below we checked current allergen statements on the companies websites, but ingredients can change at any time so the information below may not be entirely up to date.
We hope this helps as a starting point for finding some new safe snacks. Many of these are staples in our multiple food allergy family! If you know of other Top 8 free snacks contact us so we can add to this list!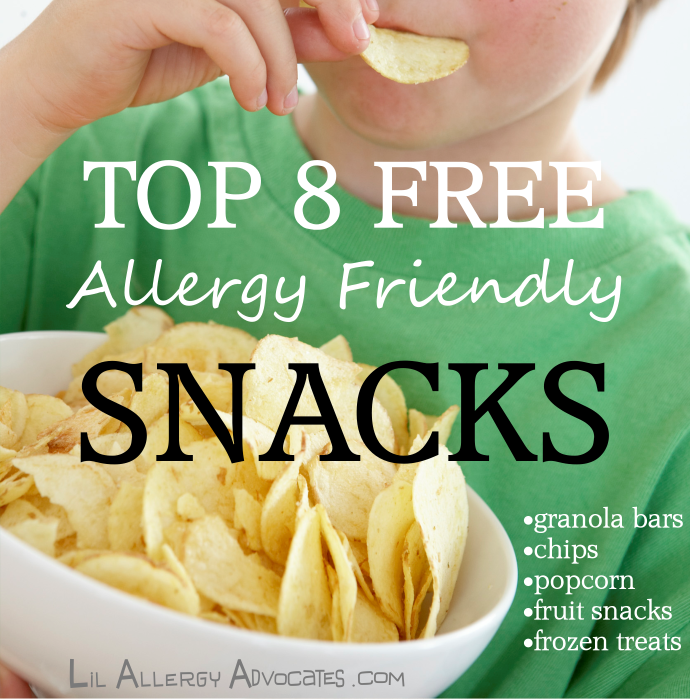 Fruit Based Snacks
Crispy Fruit Freeze Dried Fruit – Crispy Fruit is made of 100% fruit and contains no known allergens except the fruit itself.
Funky Monkey Freeze Dried Fruit – Free of the top 8 allergens, including gluten, peanuts, and tree nuts. Funky Monkey is created on dedicated equipment!
GoGo SqueeZ Fruit and Veggie Pouches – According to their website GoGo squeeZ products are made in a facility that also is free of common allergens, including Gluten, Dairy and Nuts.
Yummy Earth Orangic – Fruit Snacks, gummy worms, jelly beans and lollipops made in a facility free from peanuts, tree nuts, gluten,wheat, dairy, soy, sesame, shellfish, and eggs.
Chips & Popcorn
Enjoy life Plentils –  These crunchy chips are made of potato and lentils free from wheat, dairy, peanuts, tree nuts, egg, soy, fish and shellfish plus sulfites, crustaceans, sesame and mustard. 
Divvies Popcorn and Caramel Corn – It's vegan as well as peanut, tree nut, egg, gluten and dairy free.
Skinny Pop Popcorn – Their products are made in an allergen free production facility and are completely nut, egg, and dairy free. They even added a chocolate popcorn flavor!
Way Better Tortilla Chips – Many flavors of tortilla chips that are gluten free, peanut and tree nut free, and most are dairy free.
Granola Bars
Enjoy life Bars and Trail Mix – Many different flavors of chewy bars plus trail mix free from wheat, dairy, peanuts, tree nuts, egg, soy, fish and shellfish plus sulfites, crustaceans, sesame and mustard. 
Made Good Granola Bars – Granola Bars are made in a dedicated facility free from the 8 common allergens: peanut, tree nuts, wheat, dairy, egg, soy, sesame, fish and shellfish. They are also organic, gluten free.
No Nuttin Bars –  Granola bars manufactured in a dedicated facility free of ALL of the top 11 food allergens and gluten.
Frozen Treats
Mom Pops – These Ice Pops are 100% vegan, and free from dairy, peanuts, tree nuts (some contain coconut) and soy.
Kisko Freezies Pops – A variety of frozen pops all free of the major allergens. They are nut-free, gluten-free, dairy-free, egg-free, and soy-free.
Philly Swirl Frozen Pops
 – Gluten, Peanut, Tree Nut, Dairy, Egg, Soy, Fish, Fat & High Fructose Corn Syrup free frozen popsicles and push-up type pops.
Screamin Brothers Frozen Treats (Canada Only)- Free of gluten, milk, egg, wheat, peanuts, tree nuts, soy, sulphites, sesame seeds, seafood, and mustard.
Wink Frozen Desserts – Entirely vegan, naturally sugar-free, and free of all the top 8 allergens, including gluten, soy, tree nuts and peanuts these frozen desserts are available in many flavors.
Shop with us
Be sure to follow us on Facebook and Twitter for updates on new posts, products and coupon codes! 
More Top 8 Free Foods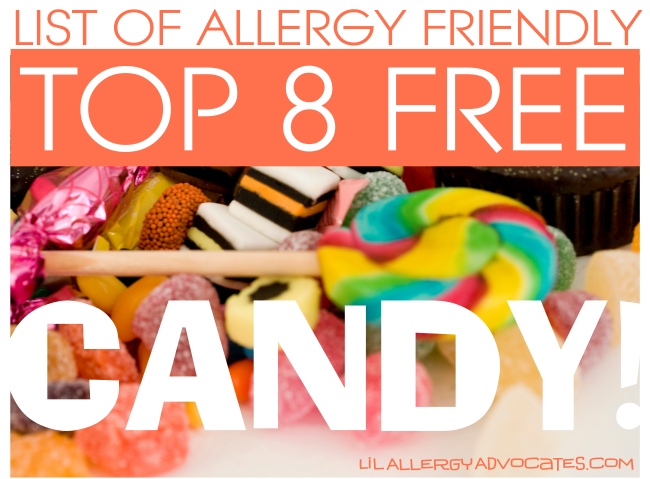 Recipe Inspiration
Back to School Ideas